Some of you would remember when I did a personal experiment on simple living and vowed not to buy anything for myself (sans the usual grocery items) for a month. It was a challenge but really helped me to identify the luxuries in life that were free or that I already owned. I saved quite a lot of money that month and it put me on a path of thinking harder about the financial and environmental consequences of my daily purchases. I realized that I had fallen into a pattern of absentmindedly buying stuff to ignore the feelings of boredom or glumness that were showing up in my life. I also realized that the practice wasn't really accomplishing anything. I had fallen into debt and I was becoming irritated by all the clutter, further adding to the rather shitty emotions I was experiencing.
Even shittier, I started feeling really guilty about what I was doing because I knew I didn't want to be so actively participating in our culture's emphasis on constant acquisition. It was costing me a lot and I knew it was stupid to get sucked into the modern day acceptance of credit card debt. I was also feeling guilty because we live in a world of finite resources and it felt selfish to be consuming so much when so little of it was necessary and almost none of it contributed to a more fulfilling life.
A few months after the month long experiment I completed a three month experiment which I called a 'consumerism detox'. Even though this challenge was three times as long I found it easier. I had sort of realized by then that it's actually ok to sit and wait and want something for a while and that you don't have to just immediately rush out and buy (or charge) whatever it is that you're wanting. I had also started to get used to enjoying what I already owned – my books, my movies, my internet connection. In the end I was more excited about getting rid of stuff than getting new stuff, especially on the day I de-frumped my closet.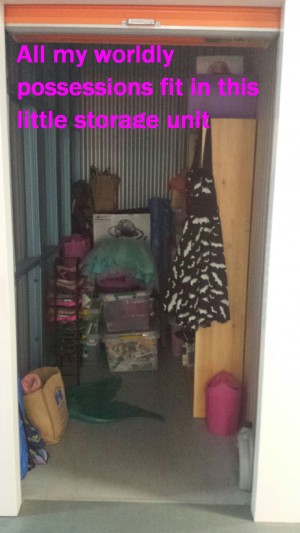 Well it's now been nine months since I completed the three month challenge. Since then I've continued to live a more simple life although I haven't had any specific 'rules' to live by. I paid off my car and almost all of my consumer debt (just about one more month to go on that) and have just began a new experiment, this time with no specific end date in mind. I am sure it will seem extreme to many of you but I have actually become willingly homeless.
I have moved out of the house that I shared with two friends and into a storage unit with no plans to get another place any time soon. My friends were going to be moving out of the house we shared anyway and since I am away most of the time with work I don't really want to waste my money on rent when I could pay the same (or less) and just get a hotel for a few days or camp out somewhere. I usually only have a week or so off in between work assignments so my plan at this stage is just to cruise around when I am off work. Go visit people, travel, volunteer, work on the film that I have been needing to head up to the Atherton Tablelands to get footage for, stuff like that.
The only problem that I can see with it is that I am one of those people that loves to be at home. The idea of not having a home is a little confronting but I do think that this experiment will be character building and will (hopefully!) allow me to save up to actually buy a little place somewhere in the next year or two – hopefully somewhere peaceful in the hinterlands and not to far from the beach.
I shall keep you posted!
To see how I'm going with this, click here
https://carlywilson.com/wp-content/uploads/2013/11/storage-unit-e1385439212574.jpg
533
300
Carly
http://carlywilson.com/wp-content/uploads/2014/03/cwlogo2.png
Carly
2013-11-25 23:24:48
2016-04-25 02:02:52
Extreme simple living - voluntary homelessness!