"as if a sunset is more beautiful when I'm watching it while wearing the 'right' brand of clothing" – Dave Bruno in 'The 100 Thing Challenge'
Today is day 10 of my 90 day consumer detox! Two of my friends have decided to do the detox with me, yay! I'll get them to chime in from time to time on how they are going with it.
I've had a few close calls already in attempting this fast of 'American-style' consumerism – not because I was intentionally trying to fail the detox but because I forgot I was even on it! I nearly bought the Katie Perry movie, "Part Of Me", the other day (embarrassing!!) and then a few days later I nearly bought a heart shaped cake pan to make a friend's bday cake. Whoopsie! But luckily I remembered just in the knick of time.
So how am I going with it? Well, apart from forgetting I'm doing it – fine! The strangest phenomenon has again taken place which happened when I attempted the month-long versions of the detox in the past. Instead of willing for the day when I can again be a slave to the enticing red glow of Target, I am actually finding myself more interested in getting rid of stuff. My housemate and I spent a few hours the other day going through our closets and looking for stuff to donate. We decided to get rid of anything that makes us feel frumpy which as it turned out, was a TON of stuff! (see photo below). There's something very liberating about looking at a closet that is entirely full of stuff that you love and which suits you. And best of all, we donated everything to a special thrift shop where all of the proceeds are donated to RSPCA-QLD.
I'm feeling lighter already!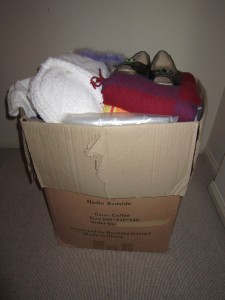 Photo credit – with thanks
https://carlywilson.com/wp-content/uploads/2013/01/closet-e1358658206416.jpg
240
400
Carly
http://carlywilson.com/wp-content/uploads/2014/03/cwlogo2.png
Carly
2013-01-20 05:00:29
2016-04-25 02:02:52
De-frumping my wardrobe (90 day consumer detox – day 10!)